Bike Medicine SprintFinish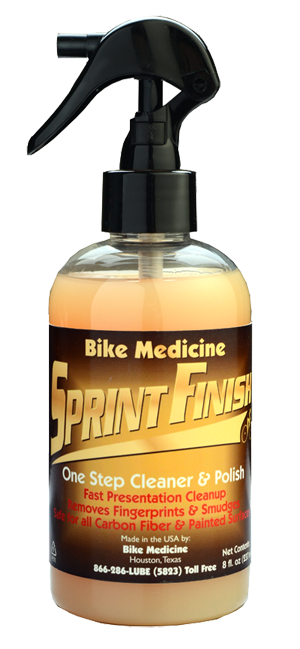 Bike Medicine SprintFinish is a fast working multi-wax formula designed to produce exceptional results in a bike shop environment.
After building up a new bike, or after service, fast cleanup of surface smudges is essential.
Simply spray a very light coating on and immediately wipe up with a clean cloth or paper towel. Because the formula is concentrated, it does not require a lot of SprintFinish to get great results. There is no need to over apply as SprintFinish is designed to work with a minimum of product and effort to achieve superior results.
SprintFinish will work within one or two quick passes with the cloth. It will leave a durable luster and offer good protection from the elements.
SprintFinish is a wax product, so do not allow it to come in contact with any brake surfaces. SprintFinish is safe for all bike frame materials and surface finishes.
Bike Medicine Sprint Finish
8 Ounce Bottle  $14.99