Bike Medicine Big Wax Finish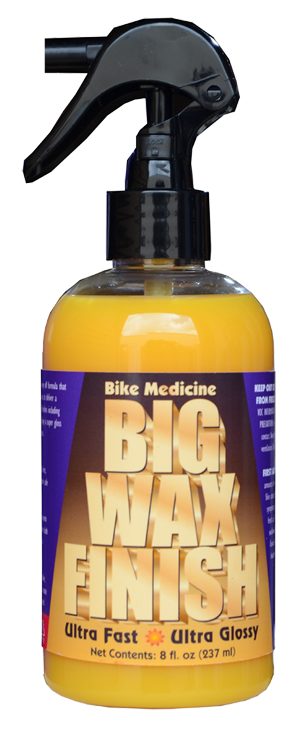 Bike Medicine Big Wax Finish – The tough, durable Carnauba wax surface top coat finish.
Our Big Wax Finish is designed to produce a super slick topcoat on glossy surfaces of all types, with minimal effort.
Simply spray on, wipe and buff. The high gloss can be achieved within a very few strokes with a soft cloth or paper towel.
The finish is so slick it will help your bike become more aero. Plus it is resistant to environmental fouling, mud adherence or bodily fluid contact. Wash and clean your bike before applying Big Wax Finish.
Never allow Big Wax Finish to come in contact with any brake surface!
Big Wax Finish works best on glossy surfaces, but also on matte finishes as well. On matte finishes, it will not present a super gloss, but the protection will be there.
Use Big Wax Finish very sparingly. The formula is concentrated and a little goes a long way.
Use Big Wax Finish as a final step in your bike wash procedure. It will also help keep your bike cleaner during rides by preventing dirt and mud from sticking.
Bike Medicine Big Wax Finish
8 Ounce Bottle  $14.99