Bike Medicine Golden Degreaser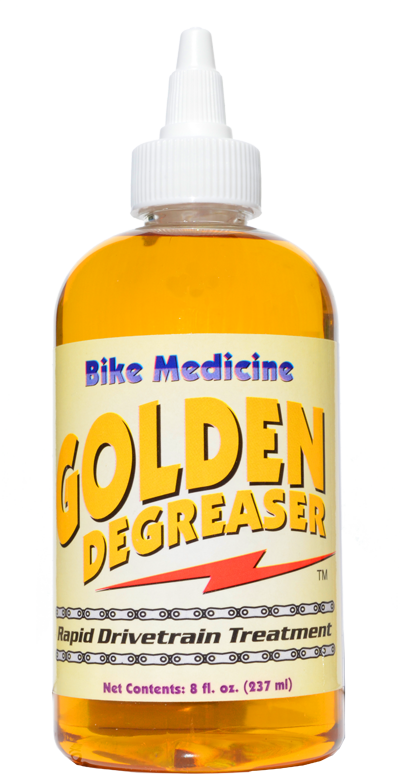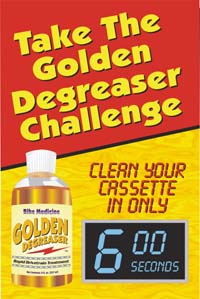 The breakthrough product that can clean a cassette in 6 seconds or less. New chain packing grease just melts away and even the dirtiest drivetrain parts come clean fast. Golden Degreaser is formulated to instantly combine with water for a rapid wash off with no residue. Your drivetrain will sparkle in record time!
Industrial strength performance for maximum efficiency
Ultra fast degreasing and cleaning action
Ultra fast water wash-off
Non-poisonous and biodegradable
Convenient flow-control nozzle, dispenses a precise flow
Designed to be used full strength
Makes short work of the toughest drivetrain cleanup problems that cycling has to offer
Most drivetrains clean up with only ½ ounce of Golden Degreaser
One eight ounce bottle is enough to clean 16 road or MTB drivetrains
Makes bike cleanings very fast and very easy
Golden Degreaser is gentle on hands
The perfect companion product for Purple Extreme of EP Ultra Lubricants
Cleaning your bike made fast and easy!
Bike Medicine puts an end to the drudgery and difficulty of cleaning your bike. Now it is fast and easy for anyone to get professional results in just minutes.
When cleaning your bike, you need the speed!
Tools at a minimum!
Using Golden Degreaser is easy! All you need is a small brush to scrub your cassette, chain and rings. Put some Golden Degreaser on the parts, then on the brush and scrub. Within seconds, the old lube and dirt just dissolve. Rinse off with a fine spray of water to completely remove all traces of the degreaser and old deposits. In case there is no access to running water, you can completely wash a drivetrain with as little as a single quart of water in a sprayer bottle when using Golden Degreaser.
It's all about time
Golden Degreaser was developed to save time, your time. By using our cleaning method you can achieve professional results in under ten minutes!
Bike Medicine Golden Degreaser
8 Ounce Bottle $10.49